"The quieter you become, the more you can hear"
BKS IYENGAR
---
STANDING POSTURES (Utthishtha Sthiti) 
Shape and strengthen the leg and arm muscles, decrease stiffness in the legs, hips and shoulders. Practice of these poses increases stamina and prepares the student for all the other categories.
SEATED POSTURES (Upavistha Sthiti) 
FORWARD BENDS (Paschima Pratana Sthiti) 
Loosen the joints and lengthen the muscles of the upper and lower extremities. Forward bends soothe the nerves, reduce stress and mental and physical fatigue.
TWISTS (Parivrtta Sthiti) 
Increase lateral movement of the spine and blood supply to the region of the disks. They relieve neck and shoulder pain and tension.
INVERSIONS (Viparita Sthiti) 
Regular practice of Sirsasana develops the body, disciplines the mind and widens the horizons of the spirit. One becomes balanced and self reliant.
BACKWARD BENDS (Purva Pratana Sthiti) 
Invigorate the spine. They strengthen the arms and legs. Practice of backbends enhances energy and lightness.
---
CLASS DESCRIPTION
The approach emphasising planned sequencing, timing and the use of props. The instructions are precise and methodic. It teaches how to develop strength and flexibility, improvement of the respiratory system and increase of the blood circulation.
Visual demonstrations are done to develop understanding and intelligent actions in the pose. Props such as blankets, belts, chairs and blocks are used to adjust the asanas for each individual which allows the body to progress in an anatomically way. 
PRANAYAMA
Prana means breath, respiration, life of strength. Pranayama is an art and has techniques to make the respiratory organs move and expand intentionally and rhythmically. It is not just automatic breathing to keep body and soul together. It is the beginning of the more inward journey on the path of yoga.
According to Patanjali's Yoga Sutras, these aspects of yoga comes as later stages in the 8 limbs of Yoga. First an understanding of the ASANA must be achieved through keen and conscious practice to refine the senses and the physical body.
Different pranayama techniques will be added to the restorative classes:
UJJAYI – Both inhalation and exhalation are consciously deepened and lengthened
VILOMA – Interrupted breathing
BHRAMARI – Means bumble bee, through exhalation the sound is like a humming of a bumble bee.
---
Standing poses
Forward bends
Back bends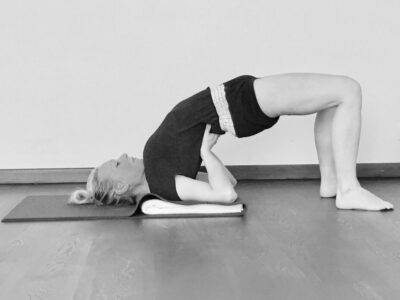 Inversions