SEQUENCE 1 & 2
---
THE SEQUENCES CAN BE DONE IN ANY ORDER YOU WANT!
Choose 1 asana or as many as you like
Do 3 times/side and/or
REPEAT one or both sequences 2-3 times
WHEN TO PRACTICE?
Before your exercise routine as a warm up or after when your muscles are warm and more elastic
As a break, spending time in front of the computer or gardening
Print out the sequences
If you don't have any Iyengar yoga material, anything similar nearby will be fine.
In the beginning TRIKONASANA has to be taught to the body. However the student must learn to teach TRIKONASANA to the body, at times by the mind and at times by the breath.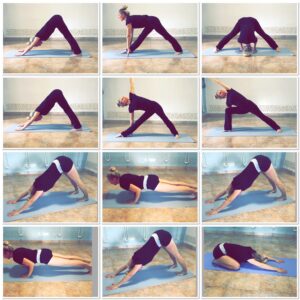 UTTANASANA, a standing forward bend, know ing when to accept intensity and when to be content with where you are to a steady progress without injury or frustration.